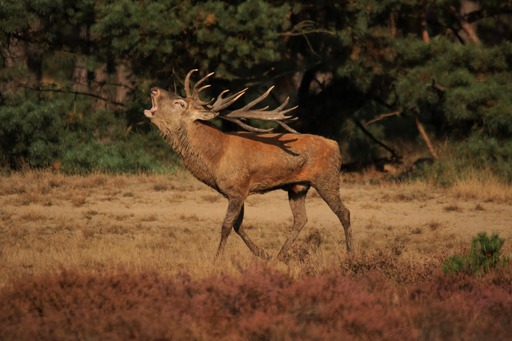 Bronsttijd Achtergondinformatie,
Rond september oktober zijn de lokroepen van de Edelherten van grote afstand waar te nemen, het zogenaamde burlen. De edelherten imponeren de concurentie en waar nodig wordt er ook stevig gevochten. In september 2016 heb ik voor het eerst van dichtbij de bronst mogen aanschouwen. Waar ik vooral van onder de indruk ben is het gewei wat het mannetje meedraagt. Dit kan wel 10 kg wegen. De edelherten bakenen hun territorium af door te burlen en zich zelf te besproeien met eigen urine. Rond maart en april valt het gewei van het mannetje af waarna het rond eind juli weer is volgroeid. Grappig is dat het gehele jaar door de hindes de baas zijn en ook bepalen wat het trekgedrag is. Hindes zorgen voor het nageslacht, alleen tijdens de bronsttijd worden de rollen even omgedraaid, dan hebben de edelherten het voor het zeggen. De gevechten die ik heb gezien zijn best stevig, de mannetjes klappen met het gewei tegen elkaar en dat gaat met de nodige kracht. Ook jagen de edelherten elkaar weg en rennen achter elkaar aan. Het is een spektakel om te zien hoe de hiërachie wordt bepaald. Mocht je eens in de gelegenheid zijn is het zeker de moeite waard om dit te zien.
Rutting Season Background Information,
Around september October are the screamings of the Red Deer from large distance, the so-called belling. The Red Deer impress the competition and, where necessary, we also firmly fought. In september 2016 I first up close the bronzes. Where I especially impressed is the antler when the male. This may be 10 kg. The Red Deer mark their territory by spraying themselves with own urine and bellowing. Around March and april, it is the male's antlers off after which it around late July weather is fully grown. Funny thing is that throughout the year the hindes the boss and also determine what the status is. Hindes ensure posterity, only during the rutting season, the roles are a little reversed, then have the red deer. The fights I have seen are best firm, the males hits with the antlers against each other and that goes with the necessary strength. Also hunt the Red Deer each other off and running after each other. It is a spectacle to see how the hierarchy is determined. If you even have the opportunity is definitely worth it to see this.
©2017